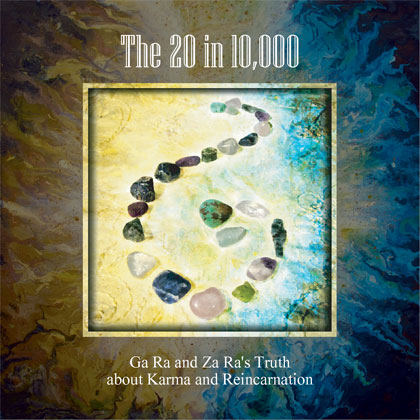 This recording gives one ancient wisdom and new information on the concepts of karma and reincarnation, along with the Ancient One's techniques for resolving emotional pain from past karmic events.
This recording, by Ga Ra and Za Ra to help people around the world, also includes specific details on the relationship between one's temporary physical body's brain and one's permanent Emotional Body's Mind. There are new details about karma and reincarnation that use real life examples from events that occurred just a few years ago to two baby boys.
Ancient wisdom is combined with modern information about how anger at one's parents typically results in the karma of cancer during one's current lifetime. Listen to information and receive the techniques that help one reconcile one's childhood abuse.
Learn the wisdom and be guided step by step how to perform the Ancient One's Fire Ceremony that removes the emotional dis-comfort associated with past unpleasant and traumatic events. Then, one is taken step by step through the Ancient One's Rebirth Ceremony that enables one to become a better person and begin life all over again in a positive relaxed state of Mind.
Receive the techniques that enable you to remain rebirthed and maintain your relaxed state of Mind. Learn how indigenous people were able to bring forth rain during a drought. Obtain the wisdom about how your Emotional Body's Mind is your "Guardian Angel".
Attain the unique state of Conscious Awareness known as Enlightenment and receive the teachings and techniques that enable one to maintain the state of Enlightenment.
Reach new levels of Conscious Awareness with "Ga Ra and Za Ra's Truth about Karma and Reincarnation" while properly helping children in need.
We do What we Say, We Walk our Talk
* $5 from each CD/Download sold is donated to an African charity that feeds and educates a thousand destitute children living in corrugated tin shacks in slum areas that have no running water.