(you have never heard about)
Kukulkan and Quetzalcoatl
The World's Greatest Love Story of Kukulkan and Quetzalcoatl is filled with magical and mystical events that occurred a thousand years ago. This true life story comes from the uncensored family records of Kukulkan (White Buffalo Calf Woman), Quetzalcoatl (Amaru), Jesus (Yeshua), Mary Magdalene (Mother Mary), Thoth Hermes Trismegistus (Viracocha), Seshat, Krishna (Kokopelli), Uloopi and others. We are now using these records to write a series of Chapter Books about this Super Enlightened couple who are our ancestors. See descriptions of each book below.
Save 10%, purchase all 9 Chapter Books for $61.00
(or separately for $7.50 each)
Save 10%, purchase all 9 eBooks for $32.00
(or separately for $3.95 each)
We provide three eBook file formats in your download to accommodate most users: EPUB; MOBI & PDF. Our eBooks are electronic files and cannot be returned for a refund. None of our eBooks can be printed.
Click here for more info on eBook formats
---

Chapter 1 Book of the World's Greatest Love Story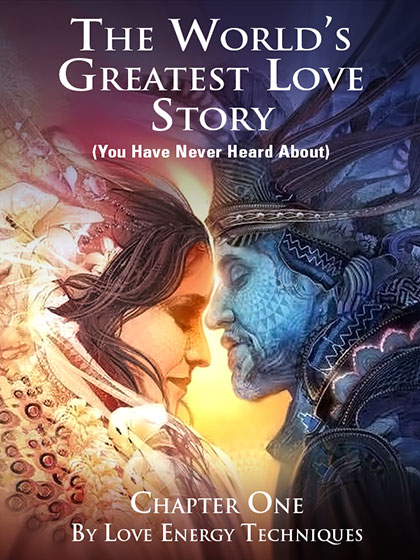 Chapter 1 Book of this amazing biographical adventure series is filled with their awesome experiences that included levitation, ancient prophecies, working with crystals and fascinating details about the world's oldest city, Tiahuanaco. Read how this Super Enlightened couple levitated to access the wisdom that is recorded in ancient crystal skulls. They fully enjoyed life and you can now read about their levitations, teachings and healings as well as how they resurrected the Ancinet Ones' Love Energy Techniques. A thousand years ago, they fully explained the Mysteries of Life and the true history of humanity in their codices or books.
Learn the secret history of the real Stone of Destiny, about the creators of ancient crystal skulls, the builders of Stonehenge, how Quetzalcoatl led Knights Templar to the bible's Ark, used an Ark's map to find the Americas and with Kukulkan used the Ark's crystals to access the Ancient Ones' wisdom and Love Energy Techniques. Read fascinating details about Quetzalcoatl, a royal Scottish Warrior Senior High Priest and Kukulkan, a Mayan Senior High Priestess whose birth was prophesized 4,700 years ago. Experience their magical meeting prophesized by the builders of the Sphinx and their mystical marriage ceremony.
---

Chapter 2 Book of the World's Greatest Love Story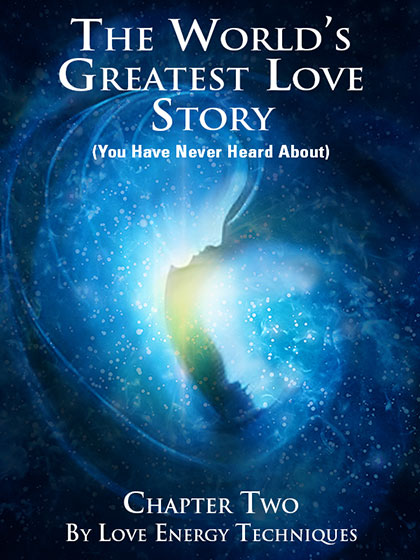 The many magical and mystical true life adventures about Kukulkan and Quetzalcoatl fulfilling a 3,700 year old prophecy. Read about actual historical events that prove truth is stranger than fiction, their prophesized meeting, their first kiss, their wedding ceremony and their honeymoon to the world's oldest city.
Learn how 2 types of Extra Terrestrials live among us in earthly human physical bodies but have non earthly Energy Bodies. How 144,000 Service to Others Ancient Ones in Energy Bodies came to planet earth in 8000 BC from a distant solar system to help humanity. The bible as well as myths and legends describe these female and male individuals as "Sons of God".
How very long ago billions of service to self individuals in non earthly Energy Bodies migrated here from 2 planets in this solar system and were given cloned temporary human ape physical bodies as is described in the world's myths, legends and in the bible's fake news story about Adam, Eve, Cain and Abel. The fake news bible says these ETs "led by Lucifer fell from heaven".
Read the true history of the "Rosetta Stone of the Americas", the "Gate to the Sun" and why December 21 2012 was important to humanity, the actual truth on how and why the worldwide Great Deluge or Flood occurred as the truth is far different than the bible's fake news story about No-Ah's ark.
---

Chapter 3 Book of the World's Greatest Love Story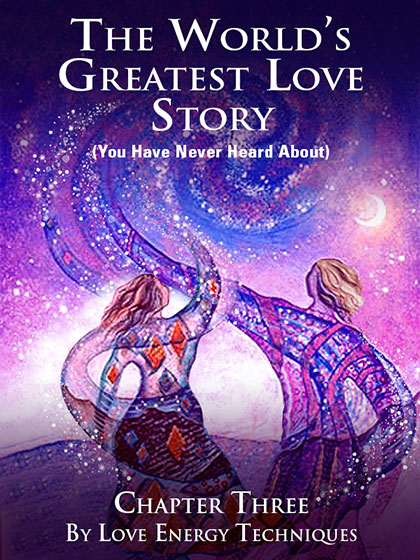 Chapter 3 Book contains Kukulkan and Quetzalcoatl's magical and mystical honeymoon with their amazing adventures during Love Energy Ceremonies at Lake Titicaca and in the Puma Punku Temple Complex at the immense Ancient Ones' statue, the Gateway to Mother Earth and their visions at the huge Viracocha statue. Read about their creation of the 5,126 year Mayan Calendar that is based upon astrological alignments as well as why it began in 3114 BC and ended on December 21, 2012 AD.
Learn the secrets of Mt Kailash, world's most sacred mountain, how our universe was created and the legendary Battle of Lanka of bows, arrows and balls of everlasting fire against tanks and automatic weapons. Read how Hykos Hebrews rewrote history in their fake news bible, how the exiled half breed Pharaoh Akhenaten/Moses stole Egypt's spiritual treasures, how the fake news bible's code words helped Egyptian Gnostic Hebrews like Yeshua/Jesus and the Ancient Ones' secrets about the 4th, 5th and 6th levels of Consciousness.
---
Chapter 4 Book: The Adventure Continues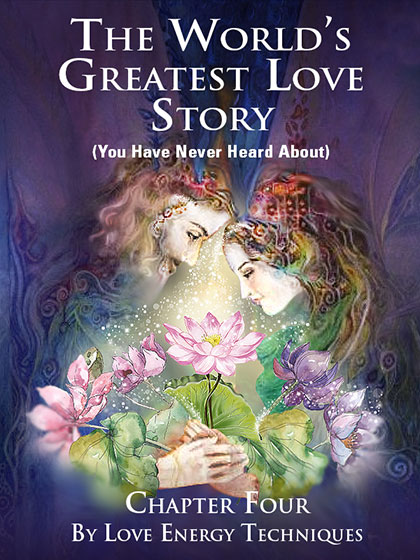 The 4th installment of this exciting series begins a new era for the World's Greatest Love Story. Our two most senior volunteers decided while writing Book 4 that since our volunteers' enlistment time is over that it is now time to release a vast amount of our lineage's heretofore secret esoteric wisdom that previously was only given verbally in person to our lineage's senior Enlightened volunteers. Our two most senior volunteers have now begun releasing our lineage's highest level esoteric wisdom in Book 4 in order to awaken memories in unawakened members of the legendary 144,000.
In Book 4 you will read about many "Mysteries of Life":
The 12 levels of Consciousness.
Esoteric secrets about the "5 Elements".
The two very different types of gold on planet earth.
Secrets that Thoth and Seshat built into Egypt's Sphinx.
The 4 inhabited heavenly levels of existence on planet earth.
What happens to Awareness when one's physical body dies.
How your Energy Body connected to your physical body at birth.
Why the 10,000 year enlistment of the 144,000 ended Dec 21, 2012.
Details about Unity Consciousness and Physical Body Ascensions.
How Egypt's original Giza Pyramids had tops of gold and solar power.
The truth behind the world's confusing legends, especially those in the fake news filled Hykos Hebrew old testament:
Fu Xi's original Love Energized I Ching Techniques.
The actual true beginning of the biblical "Davidic Lineage".
How Egyptian Gnostics created "Manna" during a 9-Day Ceremony.
Egyptian Gnostic lineage of Yeshua (Jesus) and Quetzalcoatl begins.
Why Hykos Hebrews changed the name of Egyptian Pharaohs in the bible and why one was given the name of Moses.
Thoth (Enoch) was 1st man in western history to complete a Physical Body Ascension and Yeshua (Jesus) was the 2nd one.
An exiled Pharaoh and his followers steal Egypt's Ark of the Covenant and hide for 40 years in one of Jordan's desolate wilderness areas.
Chapter Book is 60 pages (5½" x 8½"/14 cm x 20 cm) of wisdom for $7.50
---
Chapter 5 Book of the World's Greatest Love Story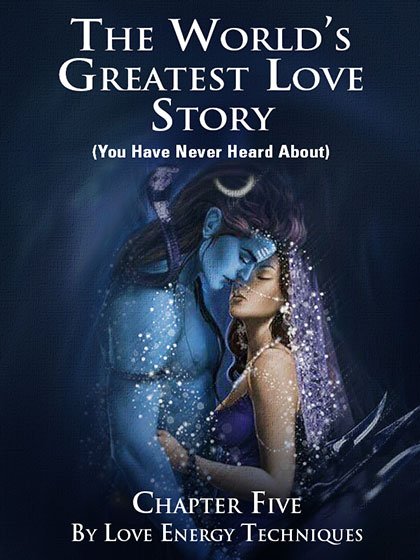 Chapter 5 Book contains amazing esoteric wisdom and true life adventures of our lineage's Super Enlightened Couples. This book includes heretofore secret wisdom and information that was only shared with senior volunteers of our lineage until now. But, due to the pandemic, we are now offering Book 5's wisdom and information to people around the world. This book's true life adventures and experiences in multilevel Enlightened Consciousness include:
After Thoth and Seshat built the original Giza Pyramids they used their "Golden Rod of Levitation" to build Stonehenge's original monolithic structure that included many crystals and 12 artifacts of gold.
Esoteric wisdom on the Healing Love Energies in the Zodiac Crystals used by Thoth and Seshat at Stonehenge to heal many people at one time. Do not confuse Healing Zodiac Crystals with the greedy jewelry industry's birthstones.
Learn the hidden secrets in a legend about 52 Sacred Sites located around the world and how they were Love Energized into existence 10,000 years ago. Details about 3 of the sites.
How the 1st Super Enlightened Couple Shiva and Sati created a Love Energy Transfer of Consciousness Ceremony which has enabled senior volunteers in our lineage for 10,000 years to Love Energize Crystals to help others.
The wonders experienced by the caravan's Egyptian Gnostic Christians upon seeing, hearing and feeling the energies recorded in the Rose Quartz Crystal Skull by the 8th Super Enlightened Couple, Yeshua (Jesus) and Mary Magdalene.
The Two Golden Phoenixes legend is about our lineage's 7th Super Enlightened Couple, Guan Shi Yin and Kwan Yin. It describes their amazing love story and the history behind their first meeting which they recorded in a crystal skull.
Wondrous historical information about the first meeting of our lineage's 5th Super Enlightened Couple of Krishna and Uloopi. Learn how to help humanity, they created before the Great Deluge, our lineage's crystal skulls and record keeper stones.
Read what Yeshua (Jesus) recorded in a crystal skull about his Gospel of Judas' prophecy and his disciples' reactions when told how the Roman Empire would corrupt, change and censor Mary Magdalene's and his wisdom and techniques.
---
Chapter 6 Book of the World's Greatest Love Story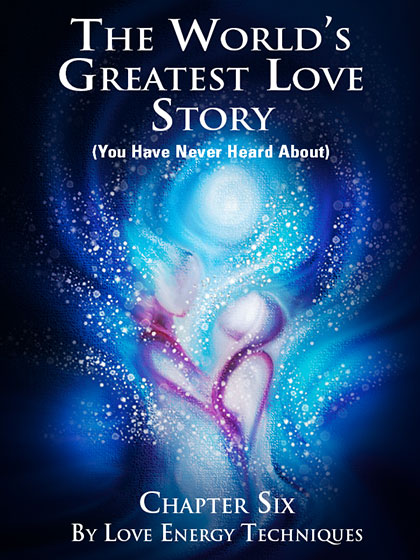 Chapter 6 of the World's Greatest Love Story opens a new era as we begin releasing our lineage's. heretofore secret knowledge. Chapter 6 begins with an epic battle where two Amazon Warrior Senior High Priestesses from Brazil and fifty Knights Templar Warrior High Priests, while guarding Thoth and Seshat's priceless treasures, are attacked by over a thousand heavily armed Islamic terrorists.
After the battle, as the wounded healed, Quetzalcoatl and Kukulkan performed each night a special Love Energy Ceremony with their six Crystal Skulls and two Sacred Artifacts of Gold. This ceremony enabled everyone in their entourage to receive vast amounts of esoteric wisdom and the truth about specific events in history while enjoying huge amounts of Healing and Consciousness Expanding Unconditional Love Energies.
The release of an immense amount of heretofore secret knowledge begins when Shiva becomes aware of Sati. Shiva, the first Son of God in our lineage is the only Individualized Consciousness in God's Awareness to ever descend down from an 11th level Energy Body in God's Awareness into the hell of reality.
Learn what it is like to be in God's Awareness at the highest level of Consciousness in all of Creation and how, millions of years ago, Shiva in the center of God's Awareness knew the exact moment that Sati was born into her first temporary physical body and received her Permanent Angelic 1st level Soul, Mind and Energy Body.
Read about Sati's rapid evolution and how she used the Consciousness of her Solar Sun of God 7th level Energy Body to single handedly save humanity from extinction twice, the most recent being 12.000 years ago. After you learn the details of how Sati saved humanity twice using ways never before seen in any Creation Cycle you will be able to understand why Shiva, to be with Sat, descended down from God's Awareness into the 3rd level of hell on planet earth.
They came here 10,000 years ago with 144,000 Unity Consciousness level senior volunteers to teach and be living examples of the Service to Others path in life. Shiva chose to descend into hell so together with Sati they could test a new method of Ascension to help Service to Others Individualized Consciousnesses living in temporary physical bodies on de-evolved planetary systems like Planet Earth where the majority of Individualized Consciousnesses have chosen the service to self path in life.
Chapter 6 has a huge amount of our lineage's heretofore secret esoteric wisdom about the so called mysteries of life, like what causes the Consciousness of a solar sun to go nova, how binary solar systems are created by a Galactic Consciousness, details on how the nine levels of Heaven contain three levels of Duality Consciousness and six levels of Unity Consciousness, how misuse of technology caused the Asteroid Belt and resulted in humanity's different color coded physical bodies and much more.
---
Chapter 7 Book of the World's Greatest Love Story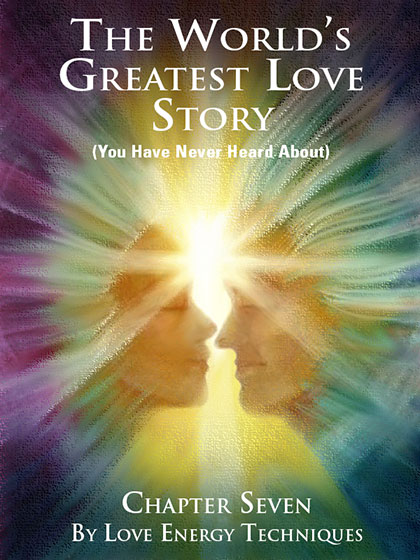 Chapter 7 is about Quetzalcoatl and Kukulkan's African Adventures and continues the release of our lineage's heretofore secret esoteric wisdom that began in Chapter 6. Learn about what scholars call the "Lost Years of Jesus" because of the complete lack of historical information on him as a youth due to the burning of documents in the Library of Alexandria by the Roman Emperor Constantine's Christians in the 4th century.
Discover details about some of Yeshua's (Jesus') adventures as a youth in India and how he met, fell in love with and married Mary Magdalene in a special Egyptian Gnostic Love Energy Wedding Ceremony. Their honeymoon was a series of mystical, magical experiences, first in Egypt, and then in a secret cave with the "Ark of the Covenant" at a remote location as well as at Stonehenge in England.
Read Yeshua's own words on how, as the "Son of God and "First Singer" in "God's Awareness," he started a new "Creation Cycle" with his first two songs that enabled the "One God" to become "Four Gods." Then, he sang into existence the first universe using "The Word." Learn how the thousand year old legend about the Ark of the Covenant being in Ethiopia is true for some of the Ark's priceless treasures. Read historic details, including credible eyewitness reports, that describe how the Ark of the Covenant's "Golden Rod of Levitation" has hung motionless in the air for a thousand years within an Egyptian Gnostic Monastery in Ethiopia.
Chapter 7 begins with the adventures of our lineage's 3rd Super Enlightened Couple of Unkulunkulu and Kali from their special wedding ceremony on "Mount Meru" in Africa to their life together in India where they were appalled by the subjugation of women. Read how Kali trained Senior High Priestesses to create and throw balls of everlasting fire. Learn how Unkulunkulu (known as NaRa Simha in India) trained Senior High Priests to use a "Shiva Bow" to protect the Fireball Throwing Senior High Priestesses.
---
Chapter 8 Book of the World's Greatest Love Story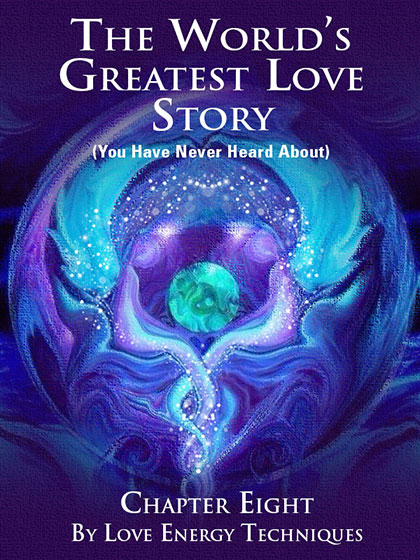 Quetzalcoatl's and Kukulkan's true-life adventures reach new heights in Chapter 8 as the couple matures and begins teaching extemporaneously.
Enjoy Quetzalcoatl's lecture on Creation with all of the details on how the first universe is created in a "Creation Cycle." Learn precisely how the physical bodies and Consciousnesses of galaxies and solar systems are birthed into existence.
Read how the Consciousness of a solar sun creates an entire planetary system, from the physical body and Group Consciousness of a planet from its first single-celled organisms to the Individualized Consciousnesses of an evolved animal species like humanity.
Enjoy Kukulkan's lecture on our lineage's Love Energy Healing Techniques. Learn how Love Energy Ceremonies enable and empower a Love Energy Healer to heal people's health problems with flows of Unconditional Love Energies from the healer and their Love Energized Crystals.
Discover the wonders contained in our lineage's Love Energy Procreation Ceremony that resulted in Kukulkan's and Quetzalcoatl's Enlightened Infant Daughter's Extra Sensory Perceptions and her abilities as a baby that included levitation and telekinesis.
Also includes esoteric wisdom about:
The mystical aspects of human sexual orgasms
How a mother cleanses a family's discord during her monthly moon cycle (menstruation period)
Details on how Love Energy Vortexes were created at Sedona, Arizona and Pagosa Springs, Colorado
Why an eagle is carved on the top of a Totem Pole
How Amarukans communicated with Power Animals
---
Chapter 9 Book of the World's Greatest Love Story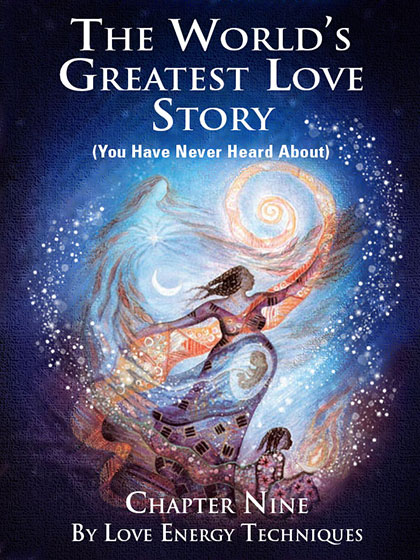 In Chapter 9, the true-life adventures of Quetzalcoatl and Kukulkan continue in North Amaruka, with Peacekeepers, Mound Builders, Algonquins and Iroquois. Discover the wonders of Monk's Mound, the huge step pyramid where 100,000 Calokians gathered to celebrate its Love Energization Ceremony.
Learn where, why and how the 9th Super Enlightened Couple performed a 9 day Love Energy Procreation Ceremony on the June Solstice. Six months later, on December Solstice Kukulkan performed a Love Energy Ceremony by herself and spontaneously levitated high in the sky.
In a full body halo, under the "Northern Lights" she became known as "White Buffalo Calf Woman". Three months later, on the March Equinox Kukulkan gives birth to their son while Quetzalcoatl is in Europe obtaining recognition of the Knights Templar.
Quetzalcoatl meets his son for the first time on the June Solstice. Then, in a Love Energy Ceremony, when the Super Enlightened Family levitates together their son's mystical, magical experiences result in his receiving the name "Talks with Eagles".
The Family prepares to return to Chichen Itza as a conflict escalates between the Reformed Mayan Church and the original Mayan Church. Kukulkan and Quetzalcoatl will be faced with a series of difficult decisions that will directly affect their lives, their children's lives and all of humanity.
---

Full Set – The World's Greatest Love Story
Purchase the entire set of Chapter Books. Save 10%. Get all 9 Chapter Books for $61.00 plus shipping:
Purchase Chapters 1-9 eBook download. Save 10%. Get all 9 Chapter eBooks for $32.00: