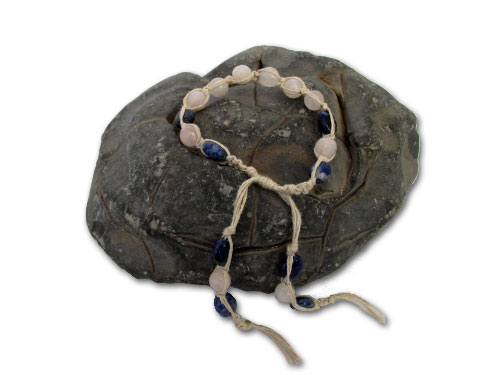 Your Crystal Soul Lover consists of Unconditional Love Energized Crystals whose energies have been awakened with two or more ancient family ceremonies. Each traditional ceremony uses vast amounts of Unconditional Love Energies enhanced by a very ancient Philosopher's Stone in a way that enables the healing attributes and self help abilities of crystals to dance together in a healing and soothing manner whenever you dance and/or repeat mantras with your Crystal Soul Lover.
This Crystal Soul Lover bracelet has come into creation using Rose Quartz and Sodalite with 100% natural hemp.  Available in our Standard size of 7.5" or 19cm and is adjustable to a maximum size of 9" or 23cm.  (Please note that the natural size and shape of each unique crystal may cause a slight fluctuation in size.)
Rose Quartz removes light oriented positive ions of discomfort from one's physical body and replaces them with the Love Energies of negative ions. Calms one's emotional energies during chaotic situations like karmic debt repayments or spiritual tests. Assists in the energetic cleansing of lower dimensional energies like anger, fear and regret from one's past memories of emotionally charged events and spiritual tests.Dissolves lower dimensional energies like stress and increases the higher dimensional Love Energies of Joy and Bliss that heal one from lower dimensional energies.
Sodalite has Blue Race enhanced energies that enable and empower one to connect one's Conscious Awareness with the higher dimensional attributes of one's 3rd Eye Spiritual Energy Center so one's creative abilities and intuition reach new levels. Gives one calmness as well as deeper focus and clarity of thought during energetically and emotionally charged situations. Builds self esteem about one's accomplishments, self trust in one's ideas and self acceptance of one's decisions.
A special "Personal Love Energy Activation Ceremony" is included which will attune your Crystal Soul Lover to your personal energies and fully activate its Love Energized healing attributes and self help abilities.  Also included are three Love Energy Power Mantras: for Self Healing, for Self Help, and for Inner Peace and Enlightenment.
You can also activate Love Energies, healing attributes and self help abilities in your Crystal Soul Lover at anytime by free form dancing during the Love Energy portion of our "Ah-mazing Dance of Love and Light" recording by sitting quietly and repeating one or more of the Love Energy Power Mantras while slowly touching each bead of your bracelet during each repetition of a mantra.
Orders will be processed within a week of your order and your tracking number will be sent via email. Two delivery options are available for your convenience:
Standard Registered SA Post Office Delivery with shipment from South Africa


DHL Express Delivery with shipment from South Africa
Standard Shipping with shipment from South Africa
Standard Registered SA Post Office Delivery with shipment from South Africa will take 3-4 weeks (with tracking number)

Cassiopeia Standard Shipping
Standard Size
$30.00 plus shipping

DHL Express Delivery with shipment from South Africa
DHL Express Delivery costs $39.00 for every 6 Crystal Soul Lover items. Delivery time to different regions is as follows:
Sub Saharan Africa: 1-2 working days

Middle East, Europe, UK: 2-3 working days

Canada, Mexico, USA: 3-4 working days

Other parts of the world: 3-4 working days
Cassiopeia Express Delivery
Standard Size
$30.00 plus shipping