Cancer has both a cause and an effect. The effect of cancer is the cancerous cells. Your Unconditional Love Energized Healing Crystal Sculpture and enclosed Love Energy Techniques will enable and empower you to self heal both the cause of your cancer and the effect of your cancerous cells.
Scientists and medical doctors are unable to find a cure for cancer because they haven't solved "the puzzle that has baffled cancer investigators: Why do many cells that have cancer genes never turn cancerous?" The answer is simple, cancer develops in some people with cancer genes because they have a lack of Love Energies, other people with cancer genes do not get cancer because they have sufficient Love Energies in their bodies.
We found the cure for cancer a number of years ago and have sucessfully used Unconditional Love Energies to heal cancer in a number of people. But, we only have Unconditional Love Energy Healers in 28 Love Centers in 8 countries. Thus, we created our Unconditional Love Energized Healing Crystal Sculptures for cancer so people around the world, could self heal themselves of cancer in the comfort of their home.
Each Healing Crystal was specifically chosen because of its healing abilities and self healing attributes for cancer. In addition, ancient and modern self healing wisdom and Love Energy Techniques for cancer are included with each Unconditional Love Energized Healing Crystal Sculpture.
A large Healing Crystal is surrounded by 2 or more medium Healing Crystals and a swirl of smaller tumbled Healing Crystals on a bed of Healing Crystals. All were Unconditional Love Energized in our Healing Chamber and instructed upon activation to release the Unconditional Love Energies that heal cancer. (Activation instructions included with sculpture.)
At home, touch the top of the large Healing Crystal while repeating one or more of our Self Healing Love Energy Power Mantras, immediately feel Healing Unconditional Love Energies flowing into your body begin healing cancerous cells.
The smaller tumbled Healing Crystals enable one to carry Healing Energies in one's pocket or purse. Periodically, touch your Healing Crystals and silently repeat one of your Love Energy Power Mantras, so you may throughout the day give yourself a cancer healing treatment.
A swirl of tumbled Healing Crystals weighs one pound or 454 grams and a bed of Healing Crystals weighs 2.2 pounds or one kilogram.
Many people prefer to select their own method of display. Thus, to keep costs low and make people happy, we send you the healing crystals shown in the photos and you provide the display. Circular displays we use in photos measure 11 inches/28 centimeters across and oval displays we use in photos measure 13¼ inches/34 cms by 10″/25½ cms.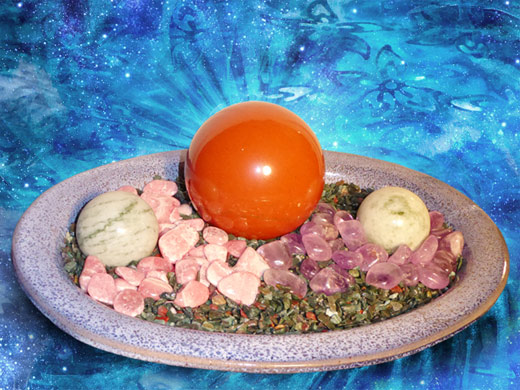 ULEHCS C1 – A Red Jasper Sphere is surrounded by 2 Jade Spheres with a half swirl of tumbled Rhodocrosite and a half swirl of Amethyst Spheres on a bed of Bloodstone.  $187* plus the postage we pay:
Healing Crystal Sculpture - ULEHCS C1
Sculpture + Postage = Total Delivered Cost
Ship to US: $187 + $14 = $201.00
Ship to Canada: $187 + $46 = $233.00
Ship to Rest of World: $187 + $69 = $256.00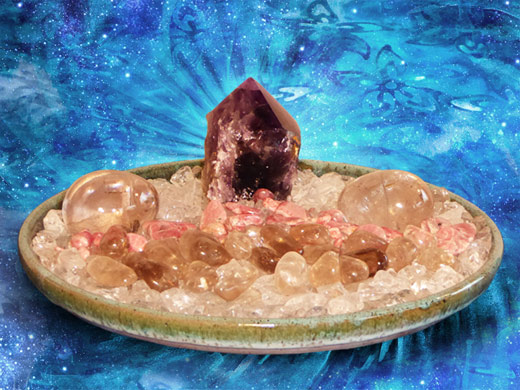 ULEHCS C2 – A standing top polished Amethyst Point is surrounded by 2 Smoky Quartz Eggs with a half swirl of tumbled Rhodocrosite and a half swirl of Smoky Quartz on a bed of Clear Quartz.  $193* plus the postage we pay:
Healing Crystal Sculpture - ULEHCS C2
Sculpture + Postage = Total Delivered Cost
Ship to US: $193 + $14 = $207.00
Ship to Canada: $193 + $46 = $239.00
Ship to Rest of World: $193 + $69 = $262.00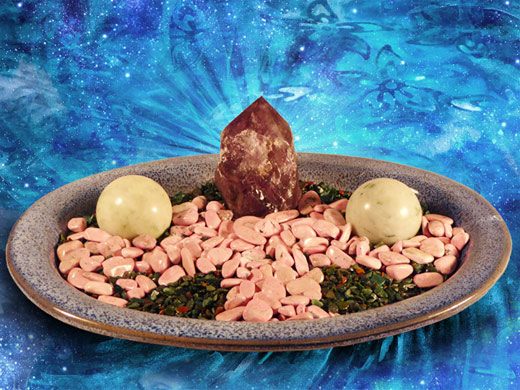 ULEHCS C4 – A standing top polished Amethyst Point is surrounded by 2 Jade Spheres with a swirl of tumbled Rhodocrosite on a bed of Bloodstone.  $199* plus the postage we pay:
Healing Crystal Sculpture - ULEHCS C4
Sculpture + Postage = Total Delivered Cost
Ship to US: $199 + $14 = $213.00
Ship to Canada: $199 + $46 = $245.00
Ship to Rest of World: $199 + $69 = $268.00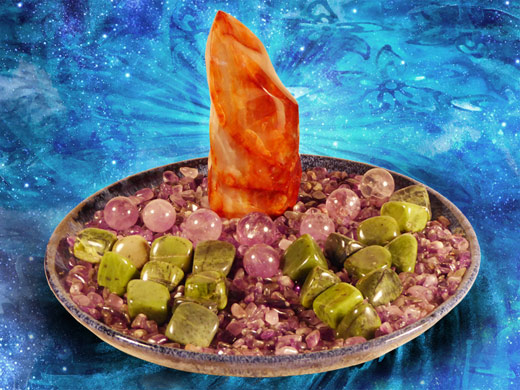 ULEHCS C5 – A standing Carnelian Flame Crystal is surrounded by 8 small Amethyst Spheres and a swirl of tumbled Jade on a bed of Amethyst.  $203* plus the postage we pay:
Healing Crystal Sculpture - ULEHCS C5
Sculpture + Postage = Total Delivered Cost
Ship to US: $203 + $14 = $217.00
Ship to Canada: $203 + $46 = $249.00
Ship to Rest of World: $203 + $69 = $272.00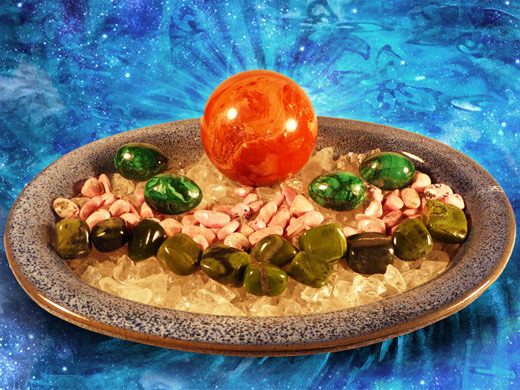 ULEHCS C6 – A Red Jasper Sphere is surrounded by 4 Malachite Eggs with a half swirl of tumbled Rhodocrosite and a half swirl of Jade on a bed of Clear Quartz.  $219* plus the postage we pay:
Healing Crystal Sculpture - ULEHCS C6
Sculpture + Postage = Total Delivered Cost
Ship to US: $219 + $14 = $233.00
Ship to Canada: $219 + $46 = $265.00
Ship to Rest of World: $219 + $69 = $288.00